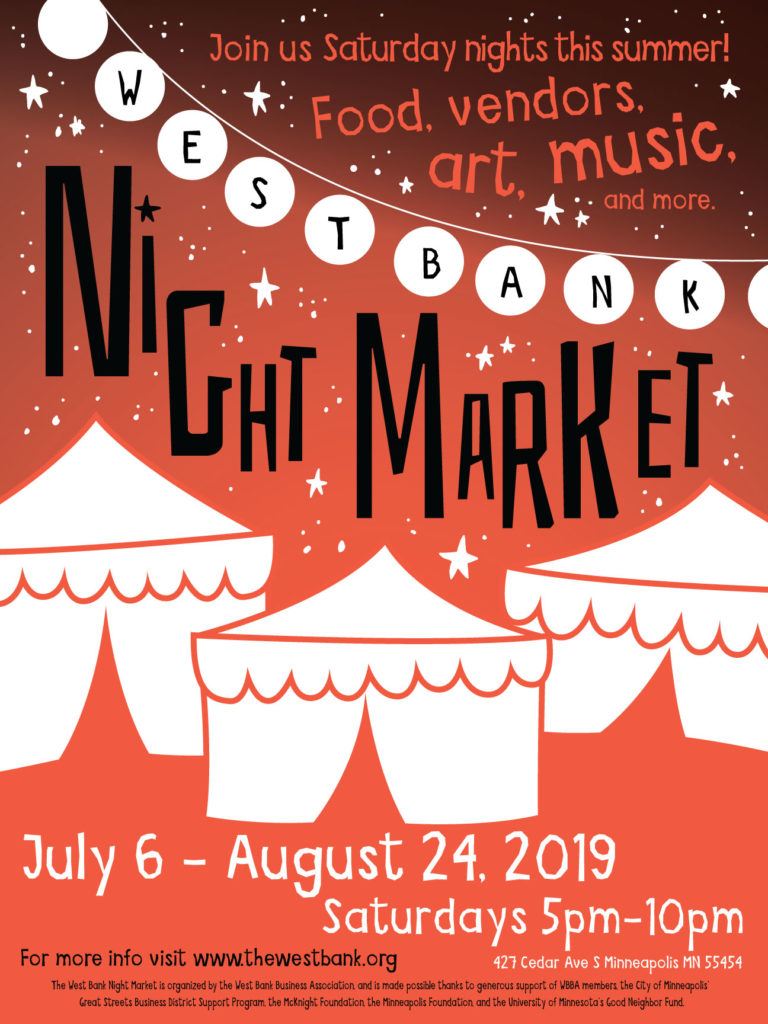 Hello West Bank Businesses,
We invite you to join us for this year's West Bank Night Market!
Last year's market drew hundreds of people to the neighborhood for art, food, and music.
Held Saturdays July 6 – August 24 from 5pm-10pm, this year's night market will be a way for the neighborhood to take a dark, empty lot and fill it with fun and light.
An added benefit: during the weekend of the night market last year, crime for the neighborhood was reduced! Let's bring some more positive and fun outdoor activity to the avenue.
Local businesses can sign up to participate for FREE on any night . Tents and tables are available for rental as needed.

To sign up, please fill out the confirmation form or contact WBBA staff.
Not interested in having a table at the market? You can still be involved, and we can still support your West Bank Business.
Drop off with us some coupons, stickers, or brochures we can share with attendees.
Bring us a small inventory of your merchandise and we can sell it for you at the info booth (t-shirts, stickers, etc).
Have a poster up in your shop for the Night Market.
Volunteer for a clean-up prior to the market.
Sponsor the market! Sponsors help cover the cost of the event and are integral to making it a success – more information here: http://www.wbba.thewestbank.org/wp-content/uploads/2019/06/2019_SponsorOpportunities.pdf .
Any questions – let us know!
Jamie, KJ, Eben and Abdu